[ad_1]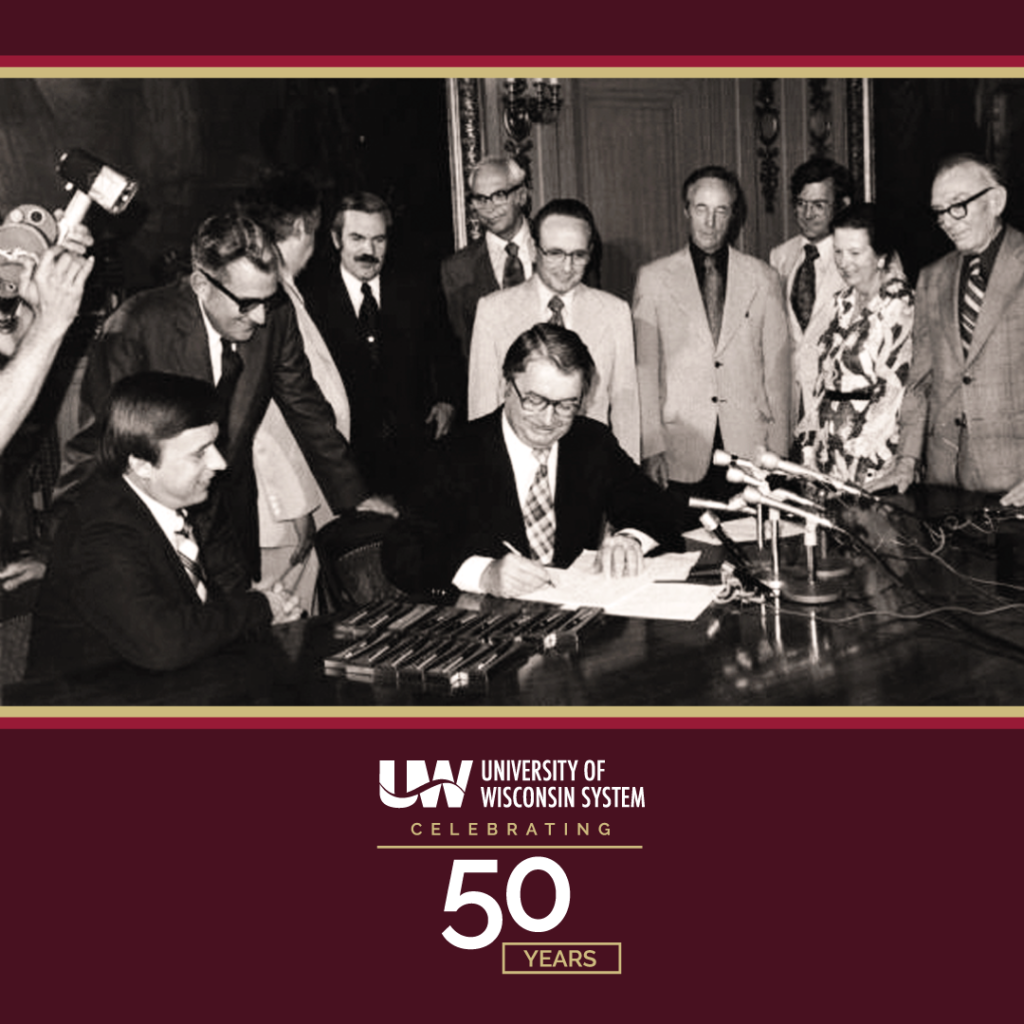 OSHKOSH, Wis. – The University of Wisconsin System is turning 50.
Fifty years ago, on Oct. 8, 1971, Gov. Patrick J. Lucey signed the bill formalizing the merger of Wisconsin's two systems of public higher education into the University of Wisconsin System under a single Board of Regents. That bill was published on Oct. 11 and became the law on Oct. 12, 1971.
Chapter 36 of the Wisconsin Statutes now sets forth the mission and purpose of the University of Wisconsin System.
"For 50 years, the UW System has been delivering on what we've promised to the people of Wisconsin, and I am absolutely certain we will continue to deliver in the years to come," said UW System President Tommy Thompson, as the Board of Regents convened at UW Oshkosh today for its regular meeting.
"With our renewed focus on the Wisconsin Idea, the University of Wisconsin System is more than ready, willing, and able to help this great state find solutions to its biggest issues and challenges, to propel us to a future that is the best it can possibly be," Thompson said.
"Each of our 13 unique universities has its own story to tell, of course, but this is an opportunity to recognize and salute our shared mission and shared commitments as part of a highly respected system of public higher education," said Regent President Edmund Manydeeds III.
The UW System will be sharing reflections on the past 50 years through the month of October on social media.
System President's Report
As part of his regular report, UW System President Thompson told Regents that seven UW universities have now passed the 70% threshold for students vaccinated against COVID-19. He said the Vax Up! "70-for-70" campaign, which gives vaccinated students at universities who've reached 70% an opportunity to win one of 70 $7,000 scholarships, has been very successful to date. With the extension of the campaign deadline to Oct. 31, he said he hopes more universities will reach the vaccination goal and give more students the chance for scholarships.
Thompson has visited seven UW campuses – along with the "high striker" – to promote the campaign and vaccinations. An aggressive social media campaign has $700,000 in earned media exposure to date, and a promotional assist from comedian Charlie Berens has further expanded the campaign's reach.
Thompson said in most cases, vaccination rates on UW universities exceed the rates in surrounding communities – which means the UW is setting a great example. He also noted that UW System continues to offer COVID testing, with a positivity rate last week of just 1.7%.
It's because the UW has been largely successful in keeping its campus communities healthy and safe that the return to in-person classes has been possible, Thompson said. "Systemwide, we are now delivering 80% of our undergraduate classes in person – which exceeds the original target of 75%," he said.
Thompson told Regents the UW System is also delivering on its promise to refine business processes. "With the successful implementation of Procure-to-Pay (P2P) and ShopUW+, we are seeing improved oversight of transactions and increased efficiencies, which is just what we wanted," he said. Turnaround time on purchase order approvals has dropped from an average of 10 days to just a single day, Thompson said.
The recent transition of all UW employees to a single pay cycle has also proceeded smoothly, Thompson said. "Approximately 33,000 employees transitioned from monthly to biweekly pay without any incident or disruption to earnings or benefits enrollments," he said.
Finally, Thompson said the UW System is delivering on its commitment to access, through the signing last month of an historic transfer agreement with the Wisconsin Technical College System. Under the agreement – which is taking effect a full year ahead of statutory requirements – it will be easier for students to transfer up to 72 credits between the two higher education systems.
"The bottom line is this student-centered agreement will improve the quality of higher education in Wisconsin and is a win for students and our two systems," Thompson said.
Board President's Report
In his regular report, Board President Edmund Manydeeds told Regents to expect a draft Tribal Consultation Policy for review at the Board's December meeting. A number of Wisconsin's tribal leaders had previously attended the July 2021 Regent meeting to share their experiences and perspectives regarding a proposed policy, and Manydeeds said he and Regent Amy Bogost are continuing to meet with tribal leaders for further discussions.
Regent Vice President Karen Walsh provided an update on the ongoing search for the next UW System President, noting that listening sessions for feedback on the process have been held at 12 of 13 campuses to date. The application deadline is Oct. 15, she said, and applicant review will begin shortly thereafter. Semifinalists are expected to be identified and invited to interviews in late November.
President Manydeeds said he expects to finalize and announce the membership of the Special Regent Committee for the UW System Presidential Search in the coming weeks. The tentative plan is the announce finalists and hold interviews in January, he said, with the goal of bringing forward the final recommendation at the February 2022 Board meeting.
Turning to recent meetings of the Special Regent Committee on Governance Issues, Regent Tracey Klein said the group has been reviewing and discussing the current chancellor search process and has approved some recommended changes, which will be shared with campus and shared governance leaders soon before being forwarded to the Board for consideration later this year. Klein said the committee is also evaluating progress in areas related to equity, diversity, and inclusion (EDI) as well as campus climate.
UW Oshkosh Delivering on Promise
As UW Oshkosh closes out its 150th year, Chancellor Andy Leavitt highlighted historical and transformational moments that have impacted the university and the region it serves. While it was born as a teacher's college, the institution's first president George Albee and the Regents of 1871 insisted on teaching subject learning as well as pedagogy. This meant UWO has been providing a college-like experience from the beginning.
Now as a full-fledged public, regional comprehensive institution, UWO has more than 100,000 Titan alumni over its history. The university is educating more than 15,000 undergraduate, graduate, doctoral, and high school dual-enrollment students this year.
Today, nearly 90 percent of UWO graduates remain in the state after earning their diploma.
Board welcomes new colleagues
Regents welcomed their newest board member, Dr. Rodney Pasch, from the Wisconsin Technical College System board. Pasch served as Vice President of Human…
[ad_2]

Read More: UW System celebrates 50th anniversary of its founding (day 1 news summary)