Finding and retaining top talent is more complex than ever in 2023, and as LinkedIn's most recent Workplace Learning Report discovered – 93% of companies have growing concerns over employee retention.
Why has finding and holding onto talented employees become so complicated?
There are a few reasons why, including the significant changes to employee expectations during the pandemic. Many professionals began working remotely during the COVID-19 lockdown, with many growing accustomed to it and preferring to work from home. In fact, research from the Harris Poll discovered that 73% of remote workers would quit their jobs should their company enact a return to the office mandate.
Flexible work hours are another common demand from modern employees, as they want more control over their schedules for a better work-life balance. Development opportunities, competitive compensation, and attractive benefits packages are also perks the best talent actively looks for.
Elevated stress due to burnout is another notorious cause for high employee turnover, and more than half of employees (59%) have experienced at least moderate levels of it.
While these stats prove that attracting and retaining talented employees is indeed difficult, that doesn't mean that it's impossible.
That's why I've put together this list of the best methods for attracting and retaining talented employees at your organization. Read on to learn how you can satisfy the needs of modern employees without bankrupting your business in the process.
Understanding today's talent market
Like it or not, the talent market irreversibly changed after the COVID-19 pandemic. The 'new normal' is here to stay, and there likely will never be a return to the way things were (think 2019 and years prior). So if you're patiently waiting for employees to want to return to the office and resume their unchanging 9-to-5, five-days-a-week schedule — don't hold your breath.
Instead, the best thing your organization can do is adapt to the needs and wants of current employees.
The Great Resignation is another significant event that shaped the modern talent landscape. Beginning in the spring of 2021, employees began leaving their jobs in record numbers. That trend continued into 2022, and there were more than a few reasons why so many employees were throwing in the towel, including the following:
The pandemic caused some to reevaluate their life priorities — leading to them reducing their working hours or quitting entirely.

Excessive working hours and mistreatment from employers were the catalysts for many to leave short-staffed positions struggling to stay open.

Some companies' return-to-office mandate caused their remote workers to quit & find other remote work (or hybrid) positions instead.

Since schools also shifted to remote learning, some parents were unable to obtain childcare and had to quit their jobs.
A noticeable lack of employee engagement (85% of employees do not feel engaged at work) also gave rise to the quiet quitting epidemic — where employees would show up to work but put in minimal to no effort. This is also known as presenteeism, which is when employees aren't fully functioning in the workplace. However, in some cases it could also be due to an injury or cognitive issue (i.e., a bad headache).
What does the best talent want?
Providing an excellent employee experience is the best way to find and retain highly talented employees, but you need to know what they want to do so. In the past, money was the #1 motivating factor, but that's simply not the case anymore.
While you definitely need to be competitive with your compensation, many other factors serve as incentives for employees to apply for positions. We've already discussed the desire many employees now have for remote work and flexible hours – primarily for the sake of their own well-being. However, excellent leadership is also a must for not only attracting talent but especially retaining them. That's because nothing will hurt your retention rates like bad managers that stress out your employees.
82% of workers have considered quitting their job due to a bad manager, so you'll need to ensure your leadership is up to par if you want to hang onto the best new hires.
Employees also crave inclusive workplace cultures where they can form meaningful bonds with their coworkers while enjoying a peaceful work environment. That's why it's worth working on your company culture, so do your best to embrace coworker relationships, reward employee successes, and elicit a positive atmosphere.
Attracting and retaining talented employees
Employees have more stringent expectations than ever for employers, and there's a ridiculous amount of competition out there.
Given all the complications, how can you hope to secure the best employees for your organization?
You can by writing solid job descriptions, setting up sustainable pipelines for attracting new talent, relying on referrals, and perfecting onboarding & the recruitment process. Taking all these measures will greatly increase your chances of attracting and holding onto skilled employees in your field, so let's take a closer look at each one.
Write stellar job descriptions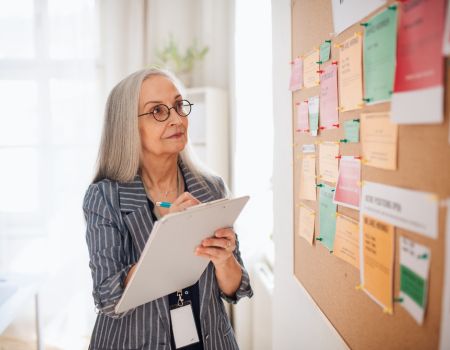 Nothing makes candidates skip over jobs faster than bland job descriptions that say nothing about your culture. Most job descriptions harp on and on about job requirements, responsibilities, and tasks — all without saying much about what it's actually like to work at the company.
So if you want candidates to actually read your descriptions, you need to give them some pizazz.
After all, a job description is the first-impression candidates get of not only what the job entails but also what it's like working for you. According to a poll from Skynova, 7 in 10 respondents felt that salary is the most important aspect of a job posting, followed by information about the benefits package.
Accordingly, you should highlight both the salary and benefits you'll provide for the position in the job description. Of course, you should also mention requirements & responsibilities, but stay consistent with your brand's tone when doing so.
All too often, brands take a robotic tone when writing job descriptions, which doesn't reflect the tone they take in their promotional content. The best thing you can do to make your job descriptions stand out is to make them unique to your brand.
In addition, strive to make your job descriptions as readable as possible.
Write short sentences, keep paragraphs brief, and make use of bullet points and numbered lists to make your job postings effortless to read.
Pro tip: Don't forget to include a clear CTA (call-to-action) at the end of your job posting that lets your applicants know what they need to do next. A simple 'don't wait to apply now' with a hyperlink to the job posting is all it takes, but it's a crucial step not to forget. Without a CTA, your applicants may not know what to do next, or they might lose interest.
Don't forget about referrals
Referrals from your professional networks and team members are great methods for attracting and retaining talented employees, so don't forget to use them.
Why are referrals so great?
For one, a referral is a cheaper, faster way to hire an employee than having to sift through thousands of applications from a job board. A study by JobVite found that it takes an average of 29 days to hire a referred employee, 39 days to hire through a job posting, and 55 days to hire someone through a career site.
Not only that, but a solid referral program transforms your workforce into recruiters, which is an excellent way to find new employees. Before you post new jobs on boards like Indeed, first ask around your organization to see if anyone knows someone that would be a good fit.
To further encourage your employees to provide you with solid referrals, you can offer incentives like monetary rewards for securing new hires. With the promise of some money or another type of reward, your employees will be more likely to find quality referrals for you.
Besides fishing for referrals from your team, you can also leverage your professional networks on social media and through other professional organizations. For instance, you could reach out to recruiters that you know on LinkedIn or see if a professional from a similar organization has anyone they can refer.
Another perk of job referrals is they will help your employee retention rates.
A different JobVite study found that 46% of referred hires stayed for at least one year after getting hired, compared to the 33% hired through career sites and only 22% from job boards.
In summary, referrals will help you find employees faster and for less money while improving your retention rates – all of which positively affect your bottom line.
Find talent from within
Having a hard time finding the perfect candidate for one of your management positions?
If so, the answer may be right in front of your nose.
Promoting from within can not only help you fill open positions but also boosts morale across your entire organization. That's great news if you're seeing waning employee engagement levels, so bear that in mind.
If other employees notice that you're willing to promote from within, it'll give them hope for a lucrative future at your company. Instead of switching jobs to continue on their desired career path, they can simply climb the ladder at your organization.
Encouraging internal mobility will yield other attractive benefits, including the following:
Internal hires already know your company culture. Since your new hire already worked with you in another position, they're already a perfect fit for your company culture, and they already know how you like to handle things. That'll help you avoid costly hires who look great on paper but fail to mesh well with your team as a whole.

Hiring from within lets you hold onto top talent. The chances are high that the top performers at your company are already looking for bigger & better deals — and they'll jump ship if they don't find them at your organization. However, you'll be able to satisfy their need for growth opportunities with internal promotions. That way, you can retain the employees that add the most to your bottom line.

Internal employees already know your products and services. The onboarding process is a long and expensive one, and you can avoid it entirely by promoting one of your existing employees. They're already familiar with what you do, so you won't have to waste time and money on expensive onboarding programs. While they'll likely need training on their new tasks, they're already ingrained in your culture, which is a plus.

Boosted levels of employee engagement. Whenever there are no opportunities for career development, employee engagement starts to nosedive. After all, why should your team give it their all if there's no chance of securing a more desirable position down the line? Hiring internal employees can also boost your employees' job satisfaction for better productivity and efficiency.
As you can see, there are plenty of reasons why it's worth promoting your current employees. Not only will it boost engagement and wellness, but hiring from within is also an excellent retention strategy.
Develop an airtight onboarding process
Next, it's vital to have a guided and organized onboarding process for all new employees.
Why is that?
It's because the bulk of voluntary turnover occurs within the first 3-6 months of hiring a new employee.
A survey by BambooHR found that 68% of new hires leave within six months, and 31% leave after only three months. These stats reinforce the need for a stellar onboarding process that helps new hires form connections to their roles and your organization as a whole.
From the get-go, they need to feel like a valued part of your team and culture, and perfecting your onboarding is how you achieve those feelings. Here are some effective tips for developing a winning onboarding process at your organization:
Recruiting. Ask yourself which job boards and career sites best align with your talent needs. For example, are there any specialty job boards that focus on your industry or niche? If so, posting your jobs there will probably yield more qualified results than sticking with major job boards like Monster and Indeed. Also, it's a good idea to use applicant tracking software to aid with your talent management.

Interviews. Developing a standard interview process will help you stay consistent with your recruiting efforts, so be sure to educate your HR team on your preferences. Interviews are your only chance to gauge the qualifications and personality of each candidate, so you need to ask the right questions. Also, pay attention to the initial gut reaction candidates have whenever you ask a question, as that's when they're the most truthful.

Acclimation. Once you've made a hiring decision, you're still not done with employee onboarding. In fact, you've only just begun. As soon as the employee starts, you need to provide all the required paperwork (employee handbook, direct deposit forms, HR policies, etc.) and training materials. You also need to welcome them to the rest of the team. Introduce them not only to their immediate team members but to everyone in the organization. That'll make them feel truly valued and appreciated, which is what you want.
Including all these factors in your onboarding process will help you retain new employees for at least a year or longer.
Offer competitive salaries
Attracting and retaining talented employees doesn't come cheap, and you'll need to provide competitive compensation if you want to secure high-performing employees at your organization. While remote work and flexible work hours are important to modern employees, money will always be a deciding factor when candidates are determining which offer to choose.
In this regard, it's crucial to have a clear understanding of the average employee salaries in your industry.
That will ensure that you're paying new hires a desirable, competitive wage. The last thing you want is for a talented employee to pass on your offer due to a low salary. You get what you pay for when it comes to recruiting talent, so make sure you have enough of your budget allotted for paying your top performers.
At the same time, a high salary isn't the only way you can compensate your employees.
While you don't want to skimp on salaries, other attractive forms of compensation include stock options, retirement plans, PTO, and regular bonuses.
Pro tip: You shouldn't set your employee's wages once and forget about it. Instead, closely review your employee's salaries at least once a year (including comparing them to industry averages) to compensate for inflation and the quality of their performance.
Speaking of performance, you should provide performance-based raises to your employees, especially top performers — as doing so will boost your employee retention, morale, and productivity rates.
Provide comprehensive benefits packages
If you recall the poll from Skynova, benefits were the second-most important aspect of job postings for candidates. Besides receiving fair pay, employees also want to know they'll be protected in case of medical emergencies or natural disasters. While you're legally required to provide the bare minimum (i.e., health insurance, FMLA, unemployment, etc.), the best employees seek something more comprehensive.
Here's a glance at some of the most attractive benefits to employees in 2023:
Mental health assistance

Mandatory paid time off (PTO)

Life insurance

Pension and retirement plans

Childcare assistance

Flexible working hours

Dental and vision

Fitness perks (trainers, nutritionists, etc.)
The more benefits you can include in your package, the better. Your employees will appreciate that you value their health and mental well-being, in turn boosting morale and productivity.
Also, remote workers have consistently listed internet assistance as a top-five benefit since they have to be online for work. Internet connections aren't always stable, especially in certain areas of the country (we're looking at you, Wyoming), so providing internet support as an employee benefit for your remote workers is a great idea.
Celebrate employee successes & milestones
Lastly, celebrating employee wins is a core component of attracting and retaining talented employees.
The proof?
Employees who received recognition are 63% more likely to stay at their current job for the next three to six months. So if you want to retain employees, you need to recognize them for their hard work.
Arguably the best way to do so is to create an employee recognition program where your team earns points for their successes. From there, they can spend their points on the rewards they value the most, such as paid time off, free food, and gift cards — to name a few.
The main reason why this method is so effective is there's no one-size-fits-all method for praising your employees. It takes different strokes for different folks, which is why the point recognition system is so effective.
Final thoughts: Attracting and retaining talented employees
Finding and securing talented employees may be harder than it has been in the past, but it's still very much possible.Most organizations need to rethink their approach to recruiting to remain competitive.
Modern employees value flexible hours, a better work-life balance, and inclusive company cultures. Appeal to what they want, and you'll have the deepest talent pool in your field.